2017 Trade Shows
PMTS 2017
April 25 - April 27
Booth #1015
Columbus, OH
EASTEC 2017
May 16 - May 18
Booth #5348
West Springfield, MA
WESTEC 2017
September 12 - September 14
Booth #2106
Los Angeles, CA
SOUTH-TEC 2017
October 24 - October 26
Booth #1813
Greenville, SC


Request a Catalog
To request a catalog, click below:
Catalog Request



THINBIT® on the Web
www.thinbit.com



February
Take Care of your heart month!

Laser Images® is Expanding!
Laser Images®, a Division of Kaiser Tool Company, Inc. is expanding our laser marking capabilities. We are now able to mark on everything from metal to fabric. So many things we couldn't possibly list them all. A few samples are show below.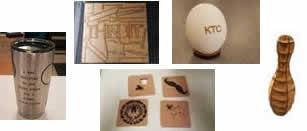 One Part or Thousands of Parts
Call us for a quote on your next laser job!


You can find many of our tools on Amazon. If you don't see what you are looking for, contact us and we can help you find the right tool to fit your needs.


DESIGN-A-GROOVE® tooling is modified according to a customer's specific application requirements.
Special configurations include face grooving geometry, full or corner radius, increased depth of cut, chamfering, chip control, top rakes and many other customized geometric combinations. Special toolholders are also available.

Visit our website
for price list or to request a catalog.
www.thinbit.com



Proudly MADE in the U.S.A.